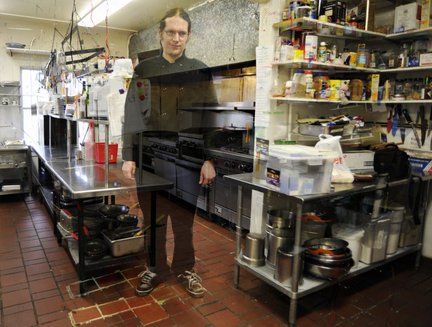 By Kathryn Lynch-Morin – The Saginaw News
Over the past 20 years, Shari Smith, owner of Shari's restaurant in the Old Willard Hillton in Beaver Township, has been convinced.
"I'm one of those people who doesn't want to believe in ghosts," Smith said. "But so many strange things have happened."
Like several times when the alarm company has been called, only to find nothing — and no one — on arrival.
Or the morning Smith arrived to find all of the spices knocked on the floor. Or the time she found a line of sugar leading from the kitchen into the dining room and along the length of the bar. But, she said, no one had been in the building since she left the night before.
"The alarm company tracks everyone going in and out," she said. "No one else had been in."
Five years ago, Smith had paranormal experts and a psychic visit her restaurant, 1506 W. Beaver Road.
They rate haunted places on a scale from 1-5, five being the most haunted. The restaurant was rated a four. Smith was told there were at least four ghosts in the building: a blonde woman in a flowing white gown named Sadie; Horace, a blacksmith; and two children who died of scarlet fever.
Built in the 1800s, the building has been a saloon, general store, hotel and jail. Smith said the psychic told her the ghosts in her restaurant did not particularly want to be reunited with loved ones in death.
"They don't want to leave," she said of her permanent — and deceased — guests.
Smith said she made an agreement with the ghosts and allowed them to stay on the condition that they didn't bother her.
Still, they make themselves known.
Sadie is frequently spotted in the kitchen and at the bar.
"Everyone has described the ghost the same," Smith said. "Even people who don't know about her."
She said she has had workers quit because of their encounters with the ghosts. Tenants in the apartments upstairs have reported they thought someone was breaking into the restaurant or their rooms.
Climbing down into the basement where two old jail cells now serve as the restaurant's wine cellar makes the hair on the back of your neck stand up. It's damp, dimly lit and eerily alive. Every creak and moan the house releases makes your heart beat a little faster.
Is there something — someone — there?
Aaron Gaertner, executive chef and general manager of Shari's, explained his encounters with Sadie and the other ghosts.
One night while working alone, a shelf fell on his head while the brackets holding the shelf stayed in place.
"It would have had to have been lifted up and over," Gaertner said. "It couldn't have fallen on its own."
Other nights he has witnessed lights turning on and off. And a few times, he has walked out of the kitchen only to return to the faucet on full-blast.
"I don't particularly like spending too much time here alone at night," he said.
One reader, Jbondo said that..Much of what they claim can be explained. Frankly I've never had Police find anything in any building I've worked in due to an alarm. Most times I tell them to not even come unless I request it as there are so many things that can cause an alarm. A line of sugar, hmmm, little hole in the sugar bag and it'll draw a nice neat line wherever you carry it. Now, if you're really busy the odds are good that you wouldn't even notice.
As for people seeing and describing ghosts, I imagine most patrons are local. People tend to talk to each other. Example: Fred gets drunk at the bar and during that evening Susie tells him about her encounter with a ghost. 2 weeks later Fred claims to have seen a ghost. He describes the same ghost as Susie but says he never heard of the ghost before. Did Fred merely forget that Susie told him about it 2 weeks prior? After all, he was pretty intoxicated at the time.
Another one also agreed...Wonder if the old jail cells are made from limestone. Again with the recorders on site. Do we have any links available for investigative evidence done on this place? Does sound like there are many residuals here. If the place was being haunted and the spirits had been asked to leave, there's a higher likeliness of their departure. Which leads me to believe that past events are on repeat. Were there any instances of direct contact such as name calling…ok, back tracking…just checked the article again.
Maybe they don't want to leave because they were their first. Sometimes we just have to cohabitate with the spirits. Like jbondo said, too many factors…
Source